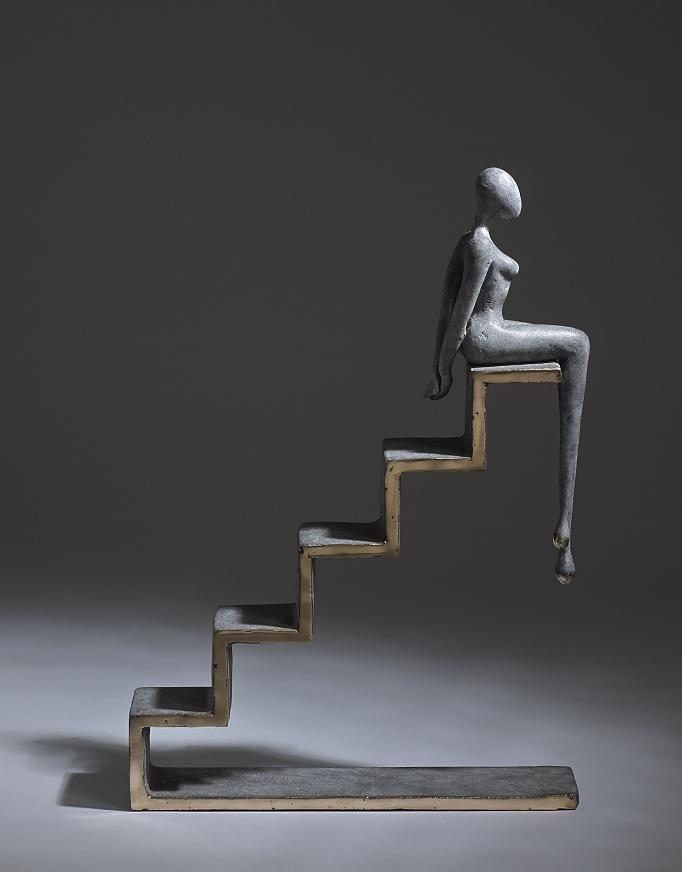 ORLA DE BRÍ
MAIN GALLERY: Flux | 24 April – 16 May 2015
"All is flux, nothing stays still" – Plato
From Friday 24th of April to Saturday 16th May Solomon Fine Art is delighted to host a solo exhibition of new work by the renowned Irish sculptor Orla de Brí.  Flux celebrates fluidity of form and nature as a source of energy and stability. Orla de Brí works with each piece as it changes and melds into something entirely other. She catches her figures and objects as they are in the process of merging with branches, antlers or drops of water, indicating a desire for change, a conscious and dynamic evolution. Working with bronze, corten steel and a variety of patinas, Orla creates a series of stunning work that considers how we relate to our surroundings and how we adapt and change as a result. Among the many pieces on exhibit, we are introduced to the two monumental figures of the 'She Stag', both standing at over two and a half metres tall, with a vast antler spread and in polished bronze and welded steel, the She Stags take centre stage. He/she represents changinging gender roles and is the embodiment of 'no gender'; an interpretation of the combined best traits of both man and woman.
To view images from the ORLA DE BRI exhibition, please click here: www.solomonfineart.ie/exhibition/orla-de-bri
PORTFOLIO: Glass
PORTFOLIO @ SOLOMON GALLERY: 20 March – 16 May 2012
The latest exhibition at PORTFOLIO @ Solomon focuses on GLASS, presenting over sixty innovative artworks by eighteen different makers.
For more info / to view images from the PORTFOLIO: Glass exhibition, please click here: www.solomonfineart.ie/exhibition/portfolio-solomon-glass/
To read more about the new PORTFOLIO @ Solomon gallery, please click here: www.solomonfineart.ie/new/solomon-launches-portfolio-solomon/