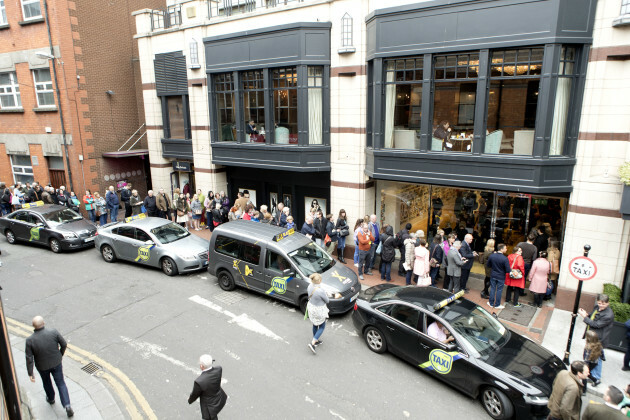 Source: Iain White/Fennell Photography
"I DON'T THINK I've ever seen a queue like that for purchasing works of art."
A unique fundraiser for the Jack and Jill Foundation beat all expectations this weekend, with the venue closing its doors two days early after selling all of the artworks at the Incognito collection.
As part of the project, over 1,000 artists from around the world donated over 1,500 original miniature art pieces – selling for just €50 each.
The catch? You don't know which of the pieces have been painted by the 50 well-known artists that make them potentially worth thousands of euro.
The organisers had planned to open on Friday, and finish up today, but the pieces of art literally flew off the shelves as crowds queued for hours to get in to the Solomon Gallery over the weekend.
It was clear that the charity was ambitious in its plans to sell all the art works, but they had a contingency plan in place to auction the remaining pieces off if they hadn't all sold by close of play today.
Some queued up from 4am that morning to be the first in line to have their pick of the art on show.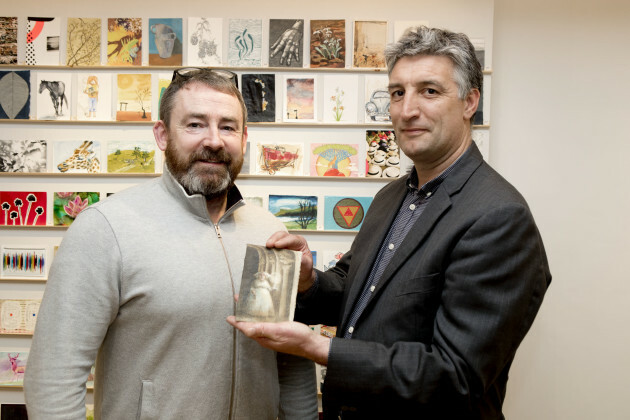 Source: Iain White/Fennell Photography
"It was astonishing," Jack and Jill Foundation CEO Hugo Jellett told TheJournal.ie. "It completely wrong-footed us. The scale of the whole thing was beyond anything we expected."
By the time the gallery shut its doors on Saturday evening, there were only just over one hundred pieces left.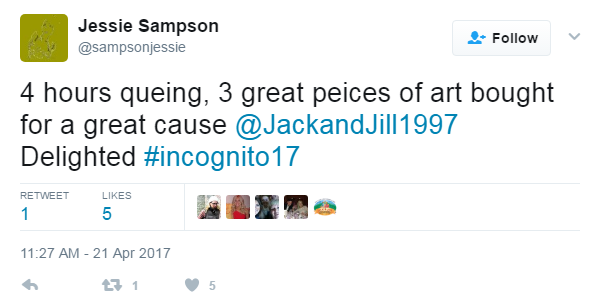 Source: Jessie Sampson via Twitter
"We were down to the last 50 by Sunday afternoon," Jellett said. "There was no point opening the doors yesterday and today, because the art works were all already gone."
The charity had hoped to raise €75,000 through the action and, with every piece sold, they are well on target for that goal.
That aspirational figure was based on us selling every single piece and that's what we've done. We are so delighted.
Appetite for art
Jellett comes from a background in art, and said that he'd never seen such a queue for people to buy art.
The unique nature of this exhibition – the relative affordability and the mystery behind the painter – allowed the public to show an interest in art that they may not have otherwise done before, according to Jellett.
"People do want to buy art," he said. "But they are often put off by the price tag."
With the identity of the artist revealed only after a work is sold (with the artist's name on the back of the work), people spent €50 on a piece that they really liked, rather than paying thousands because of the name of the person who painted it, he said.
Good cause
Some of the artists who participated included: Peter Curling, David Crone, Olivia Golden, Leah Hewson, Brian Lalor, Alice Maher, Barry McCall, Abigail O'Brien, Eilis O'Connell, Mick O'Dea, Patrick O'Reilly, Geraldine O'Reilly, Jim Savage, Gwen Wilkinson, Mo Kelly and Martin Gale.
"Incognito is another example of people reaching out to help others and our home nursing care service, which is delivered in every community in Ireland, is based around that principle of community helping community, providing a gift of time to families to give them a break from the 24 hour job of caring for their sick child," Jellett said.
The money raised will now go directly to helping families secure the care they need for their sick child.
"Jack and Jill is all about providing support for respite care," Jellett said. "This money will go straight into home nursing care."
The charity works closely with families whose children have conditions that require intensive home care, and facilitates a nurse coming to visit the home to offer care to the children.
We could spend around €16 an hour for a nurse to attend to a child at home. This money will translate to well over 4,000 hours of care.
This is the 5th time that the Jack and Jill Foundation has run an art project to try to raise funds, but Incognito is certainly the most successful, he added.
For Jellett, and its organisers, they can now reflect on a job well done.