IRISH ARTS REVIEW
Michael Wann
"In a Garden I Once Knew" exhibition
Cross Gallery, April 17th-May 7th 2016.
We draw to see what we think
Brian O'Doherty
Eye and hand fevering after the unself. By the hand it unceasingly changes the eye unceasingly changed.
Samuel Beckett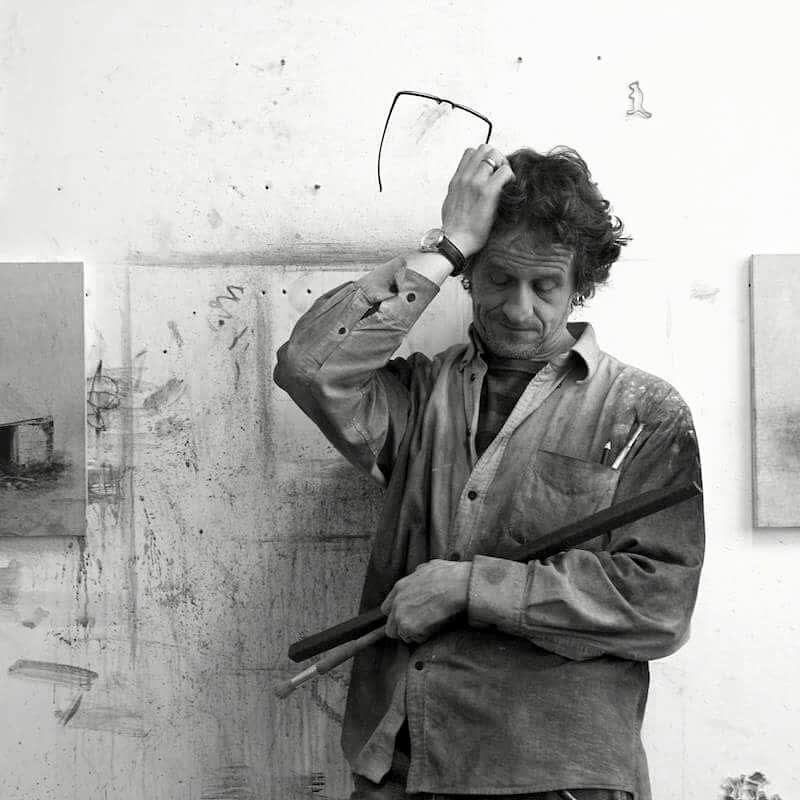 Vasari tells the story of a visit he and Michelangelo paid to the studio of Titian. Michelangelo remarked afterwards what a fine artist he was but that it was a pity he couldn't draw. Drawing at that time was regarded the preliminary phase to a finished painting. Yet drawing has had a significant role in the history of visual expression from the time of cave art to marks on paper and canvas. In spite of the recent expansion of art beyond these two dimensional surfaces and the utilisation of different media, drawing remains central to the practice of many artists. Freed from the Renaissance dialectic of line and colour and aesthetic theories that separated them into cognitive and sensory functions, drawing today is understood to be an act that connects mind and feeling directly to the nervous, muscular and sensory systems of the artist's body.
Line, the basic element of drawing, is a fact of location, as is its minimalist relative, a point. Line is formless but can powerfully connect or divide space and mark the time laboured on it. These are some of the thoughts that Michael Wann's art provokes. It is art that places drawing at its core. Colour is eschewed in favour of black and white images in which the landscape of Sligo, where the artist lives, predominates. But it is also art that makes place and location central issues of the self. In carefully selected and intensely observed drawings like Riverpath, Steps and Stream, we are presented with a section of a woodland full of light, shade, and a myriad of surface marks that create atmosphere and slow down the viewing process in ways that echo the time taken to make them. Wann's work is imbued with feeling and memories of the experience of being in the places he draws so skillfully. We are also drawn into them as mind and eye map marks that generate a sense of being 'here' and proceeding to 'there' in these in-between spaces. It is no surprise to learn that Rembrandt is an artist Wann has studied or that landscape artist Seán Sweeney was his tutor at the Institute in Sligo.
Wann's work is very much about the process of mark making. Limiting his drawing process to charcoal with and without water and a water-soluble pencil, he creates wonderfully textured drawings that allow elements of chance and intention to work together. Control and freedom become juxtaposed when unexpected breaks occur with brittle charcoal or drips of the water from charcoal washes are readily incorporated into drawings. This has the effect of creating tonal passages offset by punctate marks that up close appear to be abstract, yet when viewed from afar, become convincingly recognisable elements of landscape. Wann uses photography in preparation for the worked up drawing which may be glazed and framed if on paper or unframed, fixed, and finished with a velvet glaze, if on canvas.
Wann has also made a series of drawings that refer to neglected, abandoned dwellings in the Sligo landscape. Some have a sepia-like wash as background which lends them an air of decay with the passage of time. While informed by personal memories of the artist, one cannot avoid the association of the recession on rural areas. Like their former inhabitants, the buildings and the surrounding landscape are in a state of continual flux. There are no figures in Wann's drawings. Yet their presence is implied in these derelict houses or by the beaten track in Steps, for example.
While landscape predominates in Wann's practice, he is also a skilled portrait artist. This was evident in commissioned portraits of W.B and Jack B. Yeats for an exhibition in the Model Gallery, Sligo, in 2015. These followed an exhibition of Self Portraits called "self-assembly" in @'room', also at the Model in 2014. Since graduating from the Sligo Institute of Technology in 2003, Wann has been exhibiting continuously in numerous solo and group shows. Since 2004 his work has been selected for the Royal Hibernian Academy (RHA) Annual Exhibition. He won the AXA Insurance Drawing Prize at the RHA Annual in 2006 and has been an invited artist to the Exhibition since 2009. He also had a solo exhibition "Humble Remains," at the RHA's Ashford Gallery in 2009. Other prizes followed in 2010 when his work was selected by Hughie O'Donoghue for the Tom Caldwell Drawing Prize at the Royal Ulster Academy's Annual Exhibition. His work is held in both private and public collections in Ireland and Britain, France, Australia, New Zealand and the United States.
Brenda Moore-McCann
May 1, 2016