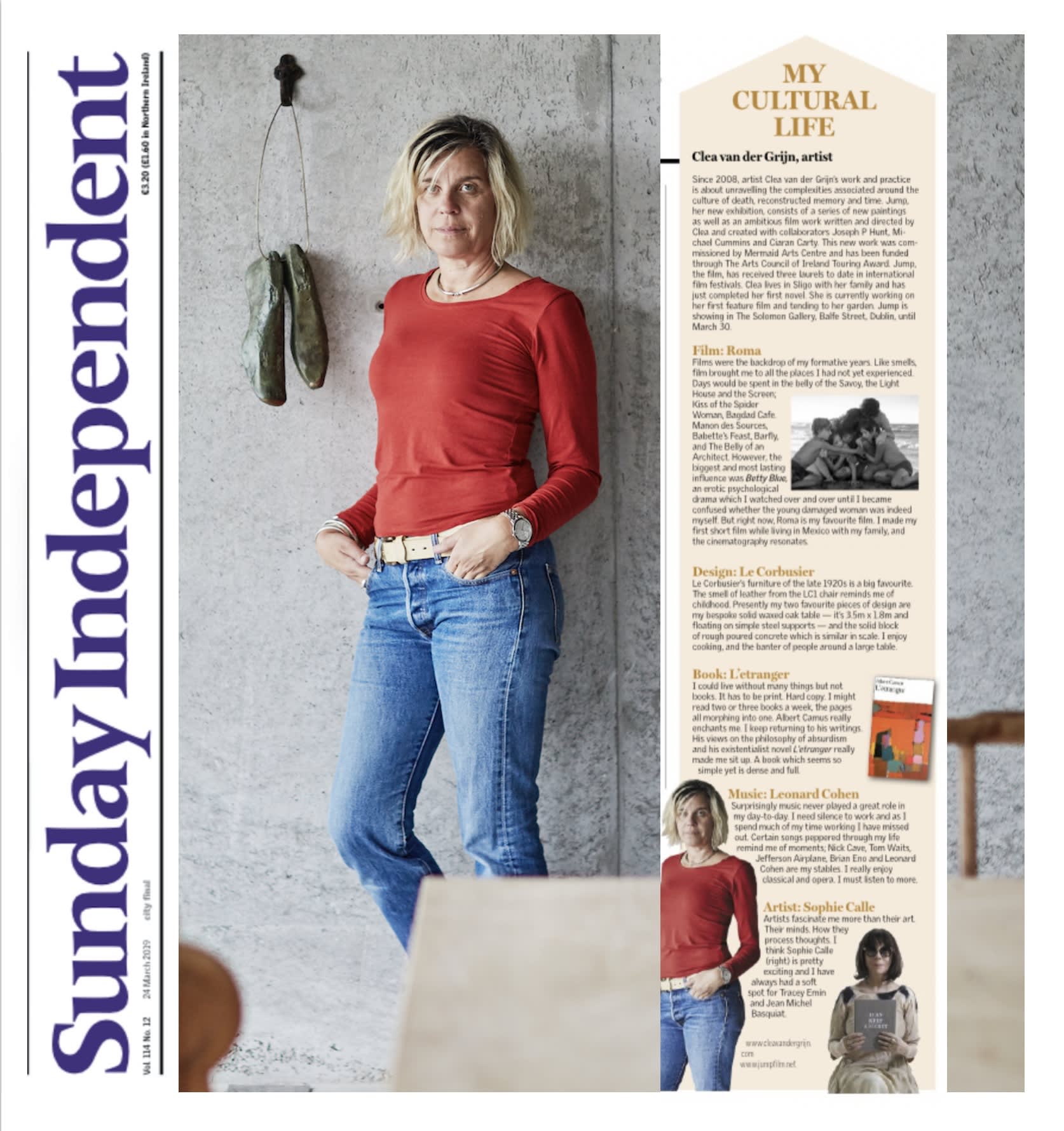 MY CULTURAL LIFE
Since 2008, artist Clea van der Grijn's work and practice is about unravelling the complexities associated around the culture of death, reconstructed memory and time. Jump, her new exhibition, consists of a series of new paintings as well as an ambitious film work written and directed by Clea and created with collaborators Joseph P Hunt, Michael Cummins and Ciaran Carty. This new work was commissioned by Mermaid Arts Centre and has been funded through The Arts Council of Ireland Touring Award. Jump, the film, has received three laurels to date in international film festivals. Clea lives in Sligo with her family and has just completed her first novel. She is currently working on her first feature film and tending to her garden. Jump is showing in The Solomon Gallery, Balfe Street, Dublin, until March 30.
Film: Roma
Films were the backdrop of my formative years. Like smells, film brought me to all the places I had not yet experienced. Days would be spent in the belly of the Savoy, the Light House and the Screen; Kiss of the Spider Woman, Bagdad Cafe. Manon des Sources, Babette's Feast, Barfly, and The Belly of an Architect. However, the biggest and most lasting influence was Betty Blue, an erotic psychological drama which I watched over and over until I became confused whether the young damaged woman was indeed myself. But right now, Roma is my favourite film. I made my first short film while living in Mexico with my family, and the cinematography resonates.
Design: Le Corbusier
Le Corbusier's furniture of the late 1920s is a big favourite. The smell of leather from the LC1 chair reminds me of childhood. Presently my two favourite pieces of design are my bespoke solid waxed oak table — it's 3.5m x 1.8m and floating on simple steel supports — and the solid block of rough poured concrete which is similar in scale. I enjoy cooking, and the banter of people around a large table.
Book: L'etranger
I could live without many things but not books. It has to be print. Hard copy. I might read two or three books a week, the pages all morphing into one. Albert Camus really enchants me. I keep returning to his writings. His views on the philosophy of absurdism and his existentialist novel L'etranger really made me sit up. A book which seems so simple yet is dense and full.
Music: Leonard Cohen
Surprisingly music never played a great role in my day-to-day. I need silence to work and as I spend much of my time working I have missed out. Certain songs peppered through my life remind me of moments; Nick Cave, Tom Waits, Jefferson Airplane, Brian Eno and Leonard Cohen are my stables. I really enjoy classical and opera. I must listen to more.
Artist: Sophie Calle
Artists fascinate me more than their art. Their minds. How they process thoughts. I think Sophie Calle (right) is pretty exciting and I have always had a soft spot for Tracey Emin and Jean Michel Basquiat.
www.cleavandergrijn.com
www.jumpfilm.net
www.solomonfineart.ie
March 24, 2019